2021/02/27 - 03/12 [current]
Curated by Xuefei Cao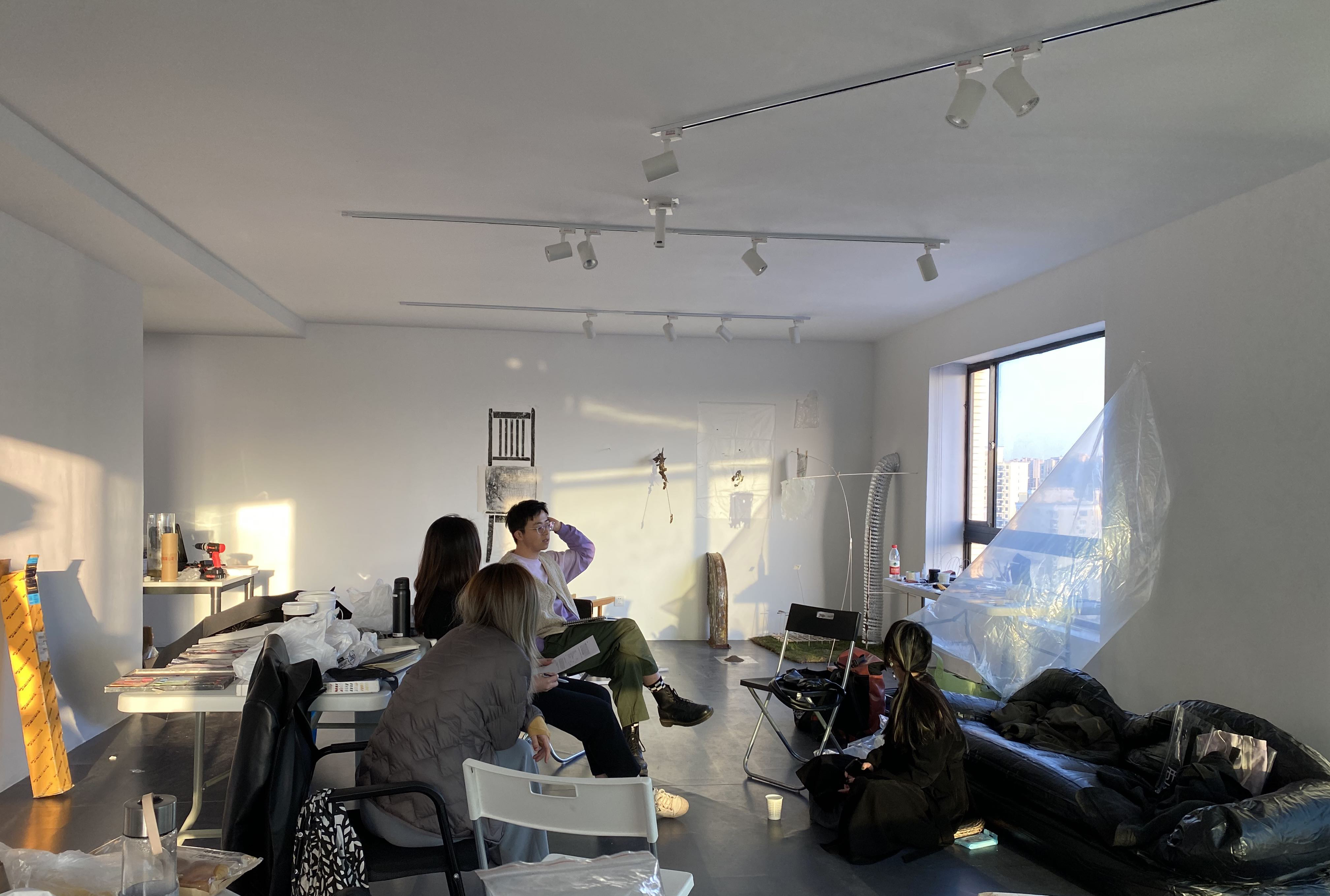 题
捕/逃


引
艺术家需呈现空气在空间中的变换流动。呈现空气作为本源如何理解?是化学成分,包含氧气、颗粒物、电离,还是热力动力学现象?例如大气、风向。人通过活动、加工来捕捉空气,而空气也随时在逃,如阴阳,如影子,我们可以更接近它,利用它,限制它,创造它,但它马上又会弥漫、变换(液固态)。我们与空气的关系也如同原始自然与人工艺术的关系:没有绝对控制,但它时刻被转换、再创造。驻地创作中,艺术家可对空气轻加工,呈现空气本源,或风的流动方向,使它视觉化、听觉化、嗅觉化,或者各种通感化。 _


形
思考与风相关的感受和文化意义,以及和传递风有关的媒介,例如可从如下关键词着手:
春风、湿风、冽风
蒸汽、雾、烟
屏风、风铃、竹扇
管乐、弦乐、打击乐、喉腔
气息、肢体运作、肢体在空间中穿梭的风..
闭塞、舒畅..
檀香、果香、工业材料香..
颗粒、化学物质、粉尘


限
一.在形态中任选至少两种,进行自我创作或合作。
二.创作需使用一种"原始材料":艺术家需要室外寻找自然材料,并在驻地处用自己方式进行轻加工,利用现有的自身技能和工具来加工再创作,如轻度打磨、折损,或做成简易装置、摄影。在保持材料原始基调的同时,加入灵活容易的个人处理,强调对自然审美的理解。例如:原始乐器、声音合成器化,或利用空气/风进行装置处理、投影处理。
三.艺术家需对空间进行简易设计改造,如通过身体表演、空间设计等。


Theme
Capture/Flee


Prelude
Artists are asked to present the flow of air in space. How do we understand air in its origin and the representations of it? Is air a chemical compound, including oxygen, particles and ions? Or is it a thermodynamic phenomenon, such as the atmosphere of Earth and the directions of wind? Humans have been trying to capture air through a myriad of activities and manufacturing processes, while air always manages to flee (into yin-yang, into shadows). We're able to get closer to air, use it, set limits to it, create it, but it would immediately diffuse, morphing into other states (from gas to liquid or solid). The relationship between us human and air parallels that between untouched nature and manufactured art: no total control, but there are always openings for constant changes and re-creations. During the residency, artists should aim to make air itself, or its/wind's direction of flow, sensible. That is, to visualize it, to make it audible, to embody it in scents, or to orchestrate it in a synergy that appeals to all human sensory organs.


Forms
Think about feelings and cultural connotations behind and brought forward by wind, and the mediums that carry wind. Artist can approach through the following keywords:
Spring breeze, moist wind, gale …
Vapor, mist, smoke …
Screens (literal translation: "wind wall"), wind chimes, bamboo fans…
Wind band, string music, percussion, larynx…
Breath, body movements, wind created by bodies shuttling in space…
Being blocked, being open…
Scents of sandalwood, of fruits, of industrial materials…
Particles, chemicals, dusts...


Limits
1. Choose at least two keywords from the above list. Works can be created individually or through collaboration.
2. One "primal material" is required in the work: artists are asked to go outside and bring back natural materials to the residency site, and lightly fabricate them using methods of one's choice. "Light fabrication" refers to a process where artists rely and use their own skills and tools for artistic manufacture, such as sanding, destressing, photographing, etc. Artists should attend to and maintain the qualities inherent in the materials when working with them, stressing on a natural aesthetics. Examples may include: primitive music instruments, sound synthesis, or use air/wind to create installations or projections.
3. Artists need to incorporate the residency/exhibition space in their works, e.g. through performance or spatial design.